This is my sweet Dom at 24 months. I have been dreaming of not purchasing diapers for a while now. It's just not fun changing a two year old's diaper and potty training a boy seems more enticing everyday.  I took a look back at my older two who really just took to this whole pee in the potty idea on their own before they where even two. This one is definitely on his own time. 
Potty Training a Boy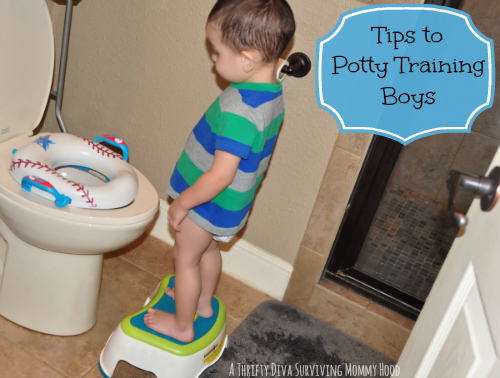 My number one tip is don't pressure your toddler to start using the potty.  As much as I want to get this potty training over with, timing is what will make or break this milestone.  Look for cues that your child is interested.  My son started mimicking his older brother and "pretends" to go potty.  He has also started to talk about going potty. I have tried to take him, only to discover he has already gone. 
Potty Training a Boy Tips 
Aim at targets. Hey if you have to make it a game, why not. And trust me, the faster you can teach your kiddo to aim the better. It is not fun to find streams of pee that have hit the back of the wall, behind the toilet and everywhere else. Keep a jar with cheerios in the bathroom.  Toss 2-3 in the toilet and tell your little one to aim at them while he uses the potty.  Make it a game that encourages him to want to use the potty.
Consistent Potty Breaks. When you are home set a timer or alarm to go off every twenty or so minutes.  I know it will get incredibly frustrating to stop what you are doing every twenty minutes, but with consistent repetition you will have potty success in no time. From the moment my little guy wakes up, until right before we head out the door, I am on mini potty break duty.  Don't expect 100% success, it will take repetition and patience.
Pull Ups Transition.  Stop using diapers and move on to pull ups for the transition.  With great features that fade, cool alert and glow in the dark for night time. The days of diapers have ended and you are one step closer to big boy undies. Speaking of big boy undies, use them at home. I leave my guy in them at home, even if he has an accident or two we practice a new trend of underwear. 
Potty Seat or Toilet Ring?  While you are out shopping for undies, shop for a toilet ring or a potty seat.  I am not a fan of cleaning out a potty seat, so I rallied for a toilet ring and a step stool.  It didn't take much to get our little guy excited about a baseball toilet ring.  Again make sure you emphasize the use of a seat or ring.  Explain that this is where they will go potty from now on.
Celebrate your child's first and continuing flushes. We celebrate a successful potty break with M&M's or whatever we happen to have on hand.  My kiddo rarely gets chocolate treats, so this is a major win for him. I try to always keep a stash of candy that magically appears when I don't have to peel off wet undies. 
Potty training a boy with patience.
Do you have any potty training boy tips? I'd love to hear them.